Georgia Whitetail Deer Hunting Guides | Georgia Deer Hunting Guides
World Class Georgia Whitetail Deer Hunts
Call Now To Book At 1-888-745-2987
Officially Endorsed Georgia Big Game Outfitter
WOODS N WATER INC
World Class Caliber Georgia Whitetail Deer Hunts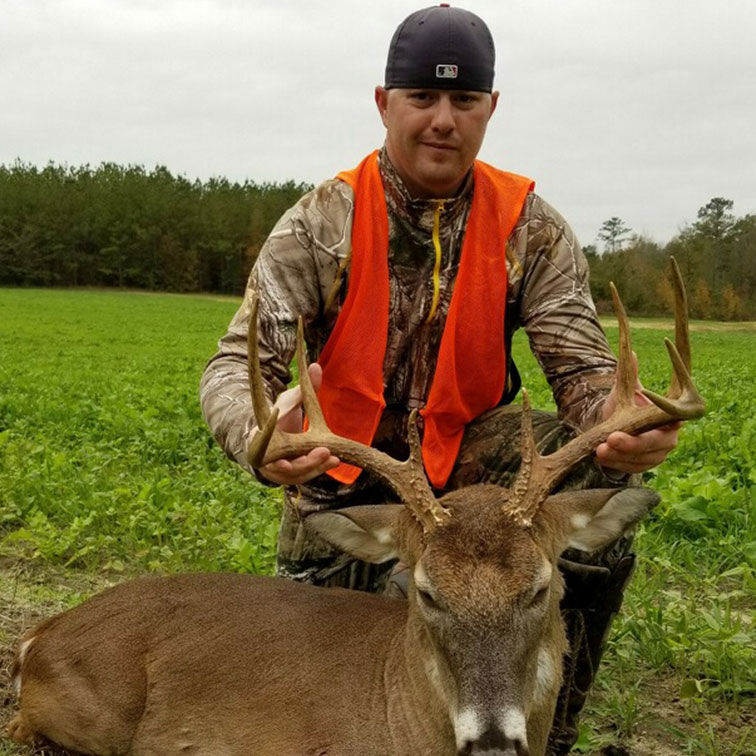 Woods N Water Inc Georgia Deer Hunts Offer
6,000+ Acres Manicured For WhiteTail Deer Hunting
50-75% Opportunity Rate On 3-Day Hunt 15" Min On Bucks
120 Acres Of Food Plots (Peas, Oats, Clover, Radish's & More)
Harvest One Buck, One Doe And One Hog With Your Hunt
Archery Mid-September – Mid-January (October Most Popular)
Gun Hunts Run Third Week Of October – Mid January
27 Years In Operation Offering Quality Hunts
Hunt The North
FEATURED HUNTS
Check Out These Exclusive HTN World Class Hunting Adventures
Georgia Whitetail Deer Hunting
With over 25 years of guiding Georgia whitetail deer hunting and much longer in the hunting industry we are excited to offer mature free-range whitetail hunts at an affordable cost. We try to cater to the average Joe around here, that being said we don't cut any corners on our Georgia semi-guided deer hunts! Blaine Burley the owner is also the president of the Plotmaster food plot machine so he takes a lot of pride in the food plots around here. Hunters will have the ability to sit in tower stands, ground blinds and ladder stands. We cater to archery hunters as well as gun hunters. With over 6,000 acres and multiple farm locations we are able to let areas rest to get those big bucks on their feet in the daylight. After your Georgia Whitetail hunt enjoy world class bass fishing right in the yard of WNW Lodge or enjoy catching some catfish at WNW Plantation.
The closest airport is Macon or Augusta. Most fly into Atlanta but we suggest checking Savannah, they are both about 2.5 hours away but the traffic is much easier out of Savannah.
A Typical Day
Hunters arrive to our Georgia whitetail camp and check in after 3 p.m. We do a quick safety briefing and go over your goals for your Georgia whitetail deer hunt. We take pride in this hunt being about you and we want to make sure we do our best to meet the goals of each hunter. Whether you're after a mature buck and that's top on the priority list or you want to fill the freezer, we will do or best to accommodate all hunter's desires. After checking in, hunters are welcome to fish in the bass ponds and enjoy some cocktails the night before the big hunt. Depending on the time of year and what your hunting with whether it be bow or gun we will determine the best stand. Hunters can hunt from dawn to dusk If they would like or we can arrange a suitable pick up time around lunch to come in an relax before the evening sit. Hunters are able to harvest one trophy buck, one doe and one pig with their tag so bring an empty cooler! Once you get game down you can call or text your guide and we will come pick you up, skin and quarter your animal up so its ready for your cooler! We are looking forward to having you in camp for a stellar Georgia Whitetail hunt!
ALSO OFFERING: Georgia Turkey Hunts
At Woods N Water we have been offering hunts for over 25 years on some of the same properties. The great benefit of this is we know the land like the back of our hand! Over the years we have had hunters average over a 90% opportunity rate on our three-day Georgia turkey hunts. We attribute our turkey successes to a few key components, first off, we limit the number of turkey hunters to max 4 in camp at a given time, we plant over 120 acres of foot plots each year that are a big feeding source for the birds which keep them here at all times of the year.
Lodging & Meals
We have two cabins, Woods N Water Lodge and Woods N Water Plantation. The lodge is fantastic for fishing and the plantation also a great little lodge.
Woods N Water Lodge – 3 Bedrooms, Sleeps 4 hunters in each room
Woods N Water Plantation – 8 hunters max, one room sleeps 2, one sleeps 4, and one can sleep up to 6
Lodging is included in your hunt
Lodges are equipped with a full kitchen and BBQ for guests
We offer meals upon special request
Hunting Rates And Packages
Georgia Whitetail Deer Hunting Rates And Packages
2022 Georgia Whitetail Deer Hunting Rates And Packages:
2-Day minimum hunts, hunts are $525 per day per hunter
Early Bird Archery Special: September 10 – October 14th
3-Day hunt $1325 (One buck, one doe, one hog)
Late season Racks Special: Dec. 15 – Jan 8th
3-day hunt $1325 (One buck, one doe, one hog)
Deer Bachelor Party Package: 6 hunters
2-day hunt $5250
2023 Georgia Turkey Hunting Rates
$550 per day with a 2-day minimum – Includes one mature gobbler per day
Beards, Boars and Bass Combo: $1800 (3- Day – Turkey hunt in the morning, Hog hunt from 5-8 pm and Bass fish in between)
Licenses are over the counter and are $150 a day, $14 for each additional day. (Same as deer license)
Georgia Whitetail Deer Hunting
About The Outfitter
Blaine Burley, the owner of Woods-N-Water, Inc., is an experienced land manager, wildlife management/hunting property consultant, and hunting outfitter that has provided lifelong memories for hunters across the world.
As President of Plotmaster Systems, LLC, Blaine (Inventor of the Plotmaster) has developed a great chemistry in managing land to produce trophy hogs, turkey and whitetails year in and year out. With over 35 years of hunting experience Blaine has consistently provided quality hunts and hunters continue to return for an unforgettable experience.
CONTACT AND BOOKING INFORMATION
To Book This Hunt Or For More Info About Booking A Hunt With Woods N Water Inc Please Contact Outfitter Blaine Burley At: woodsnwater@huntthenorth.com
Please Be Sure To Include Any Specific Details That Are Important To You And Your Group And We Will Ensure A Prompt Response!
HUNT THE NORTH
PHOTO GALLERY