Washington Waterfowl Hunting – Washington Duck Hunting – Washington Goose Hunting
World Class Washington Waterfowl Hunts
Call Now To Book At 1-800-520-5258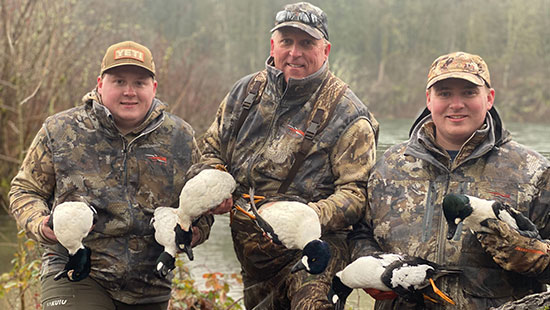 Officially Endorsed Washington Waterfowl Outfitter
UWC ADVENTURES
Specializing In Trophy Sea Duck And Diver Duck Hunts
UWC Adventures Offers
Premier Trophy Sea Duck Hunting In The Pacific Northwest
Opportunity For Harlequin, Barrow Goldeneye, Wigeon & More
Specialize On A Particular Species For Higher Success
Excellent Resident And Migrating Waterfowl Numbers
Some Of The Best Waterfowl Hunting You'll Find In Pacific Northwest
Minimum 3 Day / 4 Night & 2 Per Party
All Inclusive With Lodging & Meals
Opportunity For Large Numbers Of Different Species
Now Booking For The 2023 / 2024 Washington Waterfowl Seasons
Hunt The North
FEATURED HUNTS
Check Out These Exclusive HTN World Class Hunting Adventures
Washington Duck Hunting
Our Washington guided duck hunts offer an excellent opportunity for fast-paced, up close and personal hunts for numerous species! You can expect a wide variety of local and migratory sea ducks, diver ducks and some puddle ducks. Many of these birds winter around our location and we consistently see fantastic numbers throughout the year! Our sea duck hunts are out of new custom boat and layout boats. If you haven't had a chance to experience this type of hunting it is an absolute blast. Our Washington duck hunting season runs from October – the end of January. Come join us hunting some of the rarest ducks in the country! Whatever you enjoy most our goal is a High Quality Washington Waterfowl Hunt for you this fall!
A Typical Day
You will arrive the night before at incredible The Heathman Lodge located near our hunting locations. We will meet you there in the morning and take a short drive to our hunting location for that day. Once we arrive we will set the decoys for the day. Depending on the hunt, we'll get you settled into our custom boat or your personal layout boat you'll be ready for your Washington duck hunt. Our hunts can be catered towards a particular species or more broad such as a sea duck or puddle duck hunt. The majority of our hunters target sea ducks only as we will have ample opportunity to harvest a full limit per day. Your hunt will last as long as it takes to harvest a limit. Some groups finish up in a couple hours, and as it is hunting some days it takes until early afternoon to finish up.
ALSO OFFERING: Oregon Duck Hunts
We also offer trophy Oregon duck hunts that are similar to our Washington waterfowl hunts but allows us to hunt different locations and after the trophy Barrow's goldeneye, Eurasian wigeon, harlequin and many more! This hunt offers the same amenities at The Heathman Lodge and service as our Washington hunts. Plus, if we can't keep the ducks away and finish up early on our Washington duck hunt we can jump over to Oregon and continue the great day. Our same requirements apply with 3 day / 4 night and 2 per party minimums to ensure that we optimize each hunt to the best of our ability!
Lodging & Meals
We know that to truly enjoy your hunt, a comfortable night's rest is essential. Our lodging is at The Heathman Lodge that depicts the Pacific Northwest with massive peeled Douglas fir logs and dugout canoes. This hotel sits near our hunting locations with a short drive to each. The hotel offers all the modern amenities should you require any.
Breakfast and lunch will be provided along with meal vouchers. We have many options in the area, from fine dining, down to an economical meal. Specific requests are always taken into consideration in an attempt to offer the overall experience that you desire.
Hunting Rates And Packages
Washington Waterfowl Hunt Packages
Base Price Per Trip: $2,350 Per Person 3 Day / 4 Night (Minimum 2 Per Party)
Harlequin add on $650
Washington Duck Hunting
CONTACT AND BOOKING INFORMATION
To Book This Hunt Or For Detailed Information About Hunting With UWC Adventures, Please Call Us at: 1-800-520-5258
Please Be Sure To Include The Best Contact Phone Number As Well As Any Specific Details That Are Important To You Or Your Group And We Will Assure A Prompt Response!
HUNT THE NORTH
PHOTO GALLERY