Florida Alligator Hunting Guides & Outfitters | Florida Guided Alligator Hunts
World Class Florida Big Game Hunts
Call Now To Book At 1-888-785-9378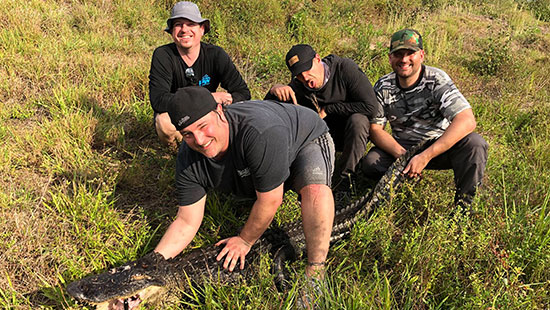 Officially Endorsed Florida Big Game Hunting Outfitter
SEMINOLE PRAIRIE SAFARIS
Trophy Florida Alligator Hunting
Seminole Prairie Safaris Florida Alligator Hunts Offer
Offering Public And Private Land Florida Gator Hunts
We Have a Maximum Of 4 Hunters In Camp At Any Time
Public land Hunts Run From Aug 15 – Oct 31 – Limited Tags
Private Land Hunts Run Year Round – Unlimited Tags
We Have 100% Success Rates Year Round On Big Gators
We Offer All Inclusive 3 Day Alligator Hunt Packages
Our Trophy Gators Top 10 ½ Feet! These Are Monsters
Hunt The North
FEATURED HUNTS
Check Out These Exclusive HTN World Class Hunting Adventures
Florida Alligator Hunts
At Seminole Prairie Safaris our premier hunt package is our 3 day all inclusive "Gator Hunts"! Our Florida Guided Alligator Hunts take place in the areas around the north end of Lake Okeechobee. We are a family run business and have been guiding Florida alligator hunters for over 30 years! We can accommodate hunters year round as we offer both public land and private land gator hunts. With the massive numbers of gators in our area we can assure that you go home with the size gator you desire. Our standard sized gators are 6 – 8 feet in length. Our monster trophy gators range from 9 – 11 feet in length. If your looking for a MONSTER GATOR you have come to the right place, we can make your dream come true!!!
A Typical Day
Depending on the time of year you come, will dictate how and where we hunt. From August 15 – October 31 we can offer gator hunts on public grounds. We have a limited number of tags available each season for these hunts. Our guided alligator hunts run from 5pm at night until 10am in the morning. The rest of the year we hunt the private ranches we have leased hunting rights to in the area. On our private land hunts, we hunt during daylight hours and spot and stalk the big critters on the water banks. We are 100% Successful on all of our gator hunts. Our standard hunt package includes gators ranging from 6 – 8 feet in length. Our trophy gator hunts range from 9 – 11 feet. All of our Florida alligator hunts come with our all inclusive 3 day package.
ALSO OFFERING: Wild Hog Hunts
In addition to our Florida gator hunts, we also offer Wild hog hunts. We have many different ways to hunt these hogs. We have the best success with our thermal night hunts but we can offer guided hog hunts over baits out of stands. We can also run them with dogs. We offer our Florida wild hog hunts year round. Depending on the time of year we can share what the most successful way to hunt the hogs during the time frame you plan to come. We charge $225 per hog and we can offer a private hunt for your group of 3 or more hunters so there will be no other hunters in camp while your group is there. We have a 95% opportunity rate on our wild hog hunts year round.
Lodging & Meals
At Seminole Prairie Safaris we pride ourselves in offering a World Class caliber All Inclusive Package on all of our Florida guided hunts. We have a 1,000 square foot private, main lodge that has satellite tv, wifi and is our main dining hall. All of our meals are served here and we specialize in offering all wild game home cooked dinners. This is a big hit for all of our hunters. We then have 4 cabins that sleep 2 hunters onsite. Each cabin has running water and two beds in private rooms.
Hunting Rates And Packages
Florida Alligator Hunting Packages
Public Land Alligator Hunts (Aug 15 – Oct 31, limited tags available) – 3 day all inclusive package with lodging and meals – $1,750 per hunter. Includes one gator from 6 – 8 feet in length. We can upgrade that package to a trophy gator ranging from 9 – 11 feet for $2,750 per hunter.
Private Land Alligator Hunts (Year Round, unlimited tags) – All inclusive package with lodging and meals have a daily rate of $250 added onto gator prices per hunter. Includes one gator with pricing based on the length of the gator.
6' – $1, 400
7' – $1, 500
8' – $1, 750
9' – $2, 750
10' – $3, 750
11' – $4, 750
12' – $5, 750
13' – $10, 000
Florida Wild Hog Hunts – $225 per day (includes 1 hog, I nights lodging and 3 meals per day). Hunters can hunt as many days as you would like for $225 for each additional day.
Florida Big Game Hunting
About The Outfitter
Seminole Prairie Outfitters is a family run business for over 30 years. We are located on the north end of Lake Okeechobee Florida. Outfitter Chris SantAngelo has been successfully guiding hunters on this property since he was in middle school, many years ago. This business has now become Chris's passion and way of life. Chris's greatest reward is watching his hunters successfully harvest the game they are after. Chris's true passion is hunting the Monster Florida gator!
CONTACT AND BOOKING INFORMATION
To Book This Hunt Or For Detailed Information About Hunting With Seminole Prairie Safaris, Please Email Chris At: seminoleprairie@huntthenorth.com
Please Be Sure To Include The Best Contact Phone Number As Well As Any Specific Details That Are Important To You Or Your Group And We Will Assure A Prompt Response!
HUNT THE NORTH
PHOTO GALLERY
More about huntthenorth.com's big game hunting adventures…
PROVEN SEASONED EXPERIENCED
Endorsed Big Game Hunting Outfitters Across North America!