Fishing Tips On Fly Fishing Brown Trout
Fisherman's Corner

by Jim Bennett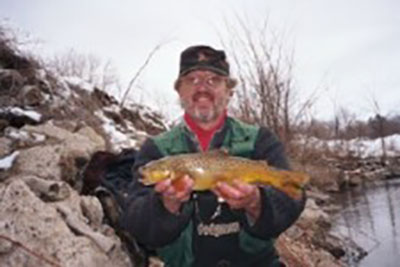 I missed the first hit but I was a bit more on my toes when the second trout smashed in to my offering. The fight was on! I knew it was a nice trout! It hit so hard it almost took my rod right out of my hand! It had power too and it showed. Fighting deep and hard the big trout put a bend in my rod that only a big trout could do!
Minutes earlier my son Josh had landed a deep and broad 15-inch brown just moments after missing his fist fish too. His 15-incher was out of the water a couple of times and then pounded the depths in an attempt to escape. But the hook held despite the pinched back barb and moments later Josh gently slid the hook out of the big browns lower jaw. The day before he had landed a 17-incher in this same spot.
I finally caught a glimpse of my fish and I knew it was right in that same size bracket. I am always impressed with the power of brown trout no matter how big they are. This fish felt like it had been pumping iron all winter in training for would be anglers like me. Pumping and pulling this pugnacious pig just would not give up!
Working it to the net Josh landed it neatly and after a quick photo it was placed back into the water and gently released after we knew it was ready. With a cold north wind howling we decided that a couple hours along the water was enough for a Sunday afternoon. We each had caught a nice fish in our new secret spot and there are many more days to go.
Wisconsin's early season trout fishing is some of the best in nation! But the cold weather and high water from a lot of rain force kept good number of trout anglers off the rivers so far this spring. And then there is a bit of rust to eliminate too. I kind of look at the early season as a spring training for ball players as they prepare for the regular season. It works for trout anglers too!
Saturday's weather was nicer when Josh hit the Kinnickinnic River with a little brown scud that the trout couldn't resist. Fished upstream and across the scud with the pinched back barbs landed about a dozen trout and let about twice many get away. The biggest fish out of the river that day was about 13-inches. A real nice fish for the Kinni!
Then it was off to a new secret spot that Josh had found last year with the big trout that live there. Last year Josh fished his new secret spot a half dozen time and only took a few brook trout. The big browns he spotted swimming along the banks and in out of the rocks would not take an offering last year. But Saturday was different. Although the fish failed to take a fly Josh was persistent and dug out his spinning rod and hooked on a Swedish Pimple. That combination fooled the fat 17-incher that Josh estimated would weigh close to 3-pounds!
Sunday afternoon I joined him and we both caught a nice fish before we started to freeze up in the near 50-mph winds. And the best part about the whole day is that we saw a few bigger fish swimming nearby. That's all the excuse I'll need to go back again. I know that even with the cold and wind early trout season was the perfect prescription for the cabin fever I had been experiencing. A few more trips back to the secret spot and some warmer weather is all I?ll need to make through the bad weather because springs warm dry weather is just around the corner!
WILDLIFE QUIZ – What do you do when you see a pink squirrel?
Answer: Tie it on your fly line because you have an awesome Wisconsin designed trout fly in your hands!
To Review Previous Fisherman's Corner Articles Please See The Following