Spring Crappie Fishing Tips
Fisherman's Corner

by Jim Bennett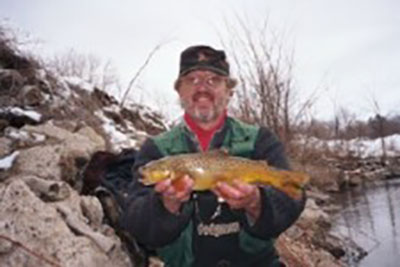 It's crappie time! Every spring crappies are the first fish to head into the shallows on area lakes after ice out. You'll know the crappies are in because there will be anglers of all shapes and sizes standing along roads hoping to get lucky! Big lakes, small lakes, even some duck ponds and secret river backwaters are all special this time of year when they hold crappies! Leave your boat in the garage. You don't need them when the crappies come into the shallows on their pre-spawn run!
It was the strong winds that blew off the ice faster this year than in years past here in Wisconsin and the northern tier of states. Most lakes are loosing their ice about a week earlier this year in the Midwest.
That wind and wave action have been ripping up ice and sending crappies into the shallows were many end up in white buckets and then frying pans! That's what's happening this year as soon as the ice started to melt and break up! So get out to the lake NOW because this bite won't last long!
I had a good feeling the night after the ice was off the lake. I heard the loons on the lake that night and the next morning. Sitting at my desk in my living room office desk where I write my columns I spotted some nice flights of cans, ring necks and buffleheads cutting over the water. Cormorants, ospreys and eagles are in the air as well! It was the first day when the temperature was suppose top make 60! I jumped on my bike and road along the lake to see if there was any action yet. Two guys were standing along the road and they looked busy. That was a good sign.
The action was HOT! They were fishing simple. Just using 1/32 ounce jig and small rubber bodied grubs set a foot or so below the bobber. They were taking a fish a cast. Most of the fish were crappies but they were also taking a few nice sunfish and an occasional perch. I turned my bike around and got home fast. After a quick dig into the corner of my garage and rummaging through the garage I found what I was after.
I dug out the tackle box and grabbed a plastic box full of tube jigs. I found just the right bobber in my son's tackle box. All I had in mine were slip bobbers. When you are fishing a foot deep you don't need a slip bobber. The poles were neatly stacked in the corner of the garage. One had a tube jig on it from last year. Off it came and one went a new one. Then came a quick trip back to the lake!
Back at the lake it was a fish a cast! Hundreds of fish were stacked along the shoreline.
All I did was cast out the bobber and yellow tube jig and give it a twitch. It didn't take long for the fish to hit. Some hit soft and some hit hard. Early that afternoon it was a mixed bag of perch and bluegill but mostly crappies. As the sun set only the crappies bit. Later that night I bit into a few fillets covered in corn meal and cooked in butter. Talk about good eaten!!!
The next day there were 20 people along the shore. The following day there was close to 100 anglers and all were filling their buckets with crappies. Boats started to show up. Stories about other places came up about other local lakes that should start having crappies appearing soon. And then things started to slow down. The crappies weren't acting like lemmings anymore. The wind changed and they seemed to be backing off or maybe they were fished out!
I liked one story about a great lake up here in northern Wisconsin that holds crappies up to 14-inches!! It has a feeder stream entering it and some old remnant beavers dams where those big crappies go right after ice out. Tomorrow we are going to head up that stream to see if we can find those foot long and bigger crappies up there on their pre-spawn run.
This time of year you don't want to hear the usual comment so many anglers hate to hear! "You should have been here yesterday! Man were they biting then but they have stopped now! That is unless you are the person saying it!"
WILDLIFE QUIZ – A new world record white crappie has been caught. Guess the weight, length, girth and state is was caught in.
Answer: This new record white crappie was 18 inches long and had a 16 inch girth went 4.19 lb. It was caught in Alabama!
To Review Previous Fisherman's Corner Articles Please See The Following